5 Benefits of Water-Resistant Flooring
As summer draws closer, it's likely that you'll try to beat the heat by taking a refreshing dip in your pool. You may even want to host fun gatherings both indoors and outdoors with friends and family. Whatever the case, your floors are going to become exposed to moisture and stains. Water-resistant flooring can take away the stress of having to worry about water damage ruining your floors and is ideal for high traffic areas of your home. Installing water-resistant flooring around your front or back doors can mitigate potential problems from entering with wet feet while swimming, or during a rainstorm. Water-resistant flooring also works well in rooms that are frequently exposed to moisture and liquid, including kitchens, bathrooms, and laundry rooms. Here are the top five benefits of water-resistant flooring.
1. Easy to Clean
Cleaning stains and spills on carpet and hardwood can be a big ordeal. The clean-up time can last for hours and may even require special equipment. But, with water-resistant flooring, clean-up couldn't be easier. All you need to do is wipe the liquid with a paper towel or damp washcloth. For larger messes, or whenever you want a deeper clean, a small amount of liquid dish soap or non-abrasive cleaners can be applied. Instead of having to schedule yearly cleanings with professionals, water-resistant flooring only requires weekly mopping to stay in good shape.
2. Durability
Unlike flooring that needs regular maintenance and costly upkeep, water-resistant flooring is especially durable, meaning it will stand up to the wear and tear of your home for years to come. Water-resistant flooring won't need to be replaced after several years like carpet, and isn't prone to aging over time like hardwood. One form of water-resistant flooring, vinyl, can last well over 20 years if properly maintained.
3. Protection from Mold and Mildew
Soft flooring, like carpet, can harbor mold and mildew. Moisture can easily get trapped beneath the floor's surface, without any way to escape. For allergy sufferers, or people with conditions like asthma, mold and mildew in the home can be especially problematic. Water-resistant flooring eliminates this potential hazard by not allowing moisture to accumulate under the surface. Any puddles or spills can easily be cleaned up before mold and mildew have the chance to form. This also prevents the unpleasant musty odors that can plague carpeted homes.
4. Stylish and Eye-Catching
Water-resistant flooring doesn't have to be boring. In fact, you won't be limited at all in terms of design, style, and aesthetics. Because water-resistant flooring is a category that includes several different types of flooring, including tile, natural stone, and laminate, you can still achieve a variety of aesthetics without compromising. For example, instead of installing hardwood floors in your kitchen, you could opt for water-resistant laminate flooring in a similar style and coloring.
5. Safe for Pets and Kids
Because water-resistant flooring is easy to clean, you won't have to worry about pet accidents settling into the flooring and causing an odor or stains caused by everyday spills and drops. The durability of water-resistant flooring also means it can stand up to scratches, dings, and damage that can occur during regular playtime.
Types of Water-Resistant Flooring
Water-resistant flooring is a broad category that includes several different flooring types. The following types of water-resistant flooring have remarkable durability, low maintenance requirements, and more.
Laminate flooring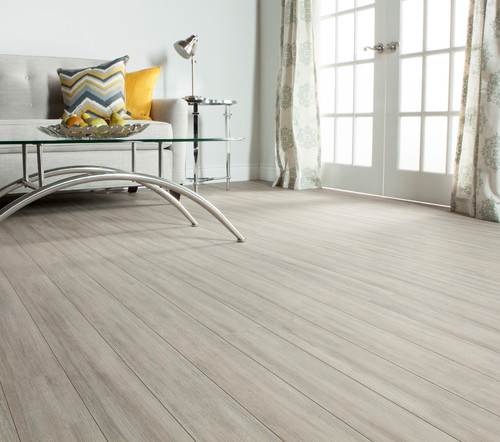 Laminate flooring has the same look as hardwood floors, but with added benefits including water resistance and a lower price point. Laminate flooring is also durable, long-lasting, and can stand up to stains and spills. To ensure your laminate flooring can resist as much moisture as possible, make sure that the boards are installed with no spaces between them. Excess water can seep into large gaps between boards, causing the flooring to swell and warp.
Vinyl flooring
Porcelain Tile
Porcelain tile is ideal for bathrooms and kitchens, especially in homes with pets and children. The top layer of porcelain tile consists of a durable glaze that does not allow liquids to seep through. This makes porcelain tile a high-quality and waterproof flooring option that's easy to clean and resistant to the negative effects of moisture. Unlike other types of flooring, there's no need for waxing, polishing, or sealing porcelain tile. Because the tile is so durable, all that's needed to clean and maintain it is regular mopping.
Natural stone
natural stone, but many stones have inherent water-resistance. Stones such as slate, marble, and granite are ideal for high-traffic or high moisture areas because of their water-resistance and durability. To enhance the water-resistance of your natural stone flooring, we recommend having it sealed once a year. Sealing the stone will help prevent any moisture from settling in the holes on the surface of the stone and prevent stains from developing. Certain stones, such as quartz, are nonporous by nature and do not require sealing, while others such as travertine and limestone are considered "soft stones" that need sealing to make them truly water-resistant.
Measuring Water-Resistance
Knowing the water-resistance of your flooring can help you decide which rooms its appropriate for, or if investing in flooring with a higher resistance is necessary. Water resistance in flooring is measured by how much, or how little, moisture the flooring absorbs. The four different rankings of moisture absorption are:
Non-vitreous: Low density or soft flooring that absorbs more than 7% of water.
Semi-vitreous: Flooring with medium density that absorbs between 3-7% of water.
Vitreous: Dense flooring that absorbs between 1-3% of water.
Impervious: Very dense flooring that absorbs less than a percent of water.
In general, water-resistant flooring ranks as impervious on this scale, while soft flooring such as carpet ranks as non-vitreous.
Get to Know the Flooring Experts at Imperial Wholesale
At Imperial Wholesale, we know flooring. We also know how to give our customers the best experience possible, from the moment they walk into our warehouse to final measurements and installations. Whether you're in the market for new flooring or just want to see what's available, contact us for all your flooring needs.