6 Ways to Add Quartz Slabs to Your Home
Quartz is a durable, visually striking, and cost-effective alternative to stones like granite and marble. For these reasons, and many others, quartz has been steadily growing in popularity. The versatility of quartz means it can be used in every room in your home—from sleek countertops to eye-catching fireplaces. If you're looking to use quartz in your home, you've come to the right place. Here are our six favorite ways to add quartz to the home.
1. Countertops
Quartz is a popular choice for countertops because of its sleek aesthetic. Many color varieties of quartz mimic the look of granite and marble, giving you the visual appeal at a lower price point. Quartz is also easy to clean and requires little to no maintenance, making it ideal for homeowners who cook often and need a countertop that can stand up to heavy use.

Quartz is a non-poupous stone, and doesn't absorb anything. This means that cooking oils, liquids, and cleaning products won't damage the stone or cause discoloration. Additionally, quartz will not harbor germs or bacteria, making it a hygienic choice for kitchen and bathroom countertops.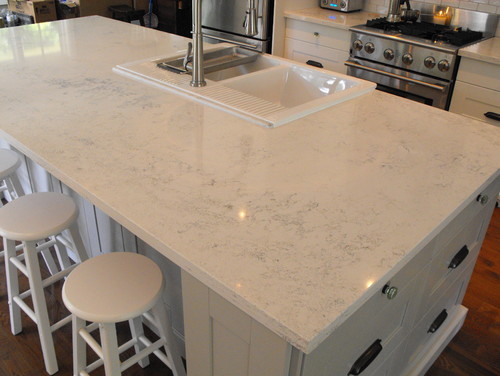 In the example above, this Calcutta quartz island countertop has the same shiny white look as marble, with hints of veining present throughout the surface.
2. Backsplashes
The same qualities that make quartz ideal for countertops make it a great choice for coordinating backsplashes as well. A quartz backsplash the provides the peace of mind of knowing that whatever spills, spots, or stains occur, it won't damage the natural beauty of the stone.



This sleek and contemporary kitchen creates an interesting visual dynamic, with the white quartz backsplash blending seamlessly into the matching countertops.
3. Fireplaces
Quartz is often used for fireplace surrounds and mantles due to its inherent heat resistance. The durability of quartz also guarantees that your fireplace will stand up to scratches, stains, and other damage over time.If you're set on using quartz for your outdoor fireplace, however, you may have to consider other options. Although it's durable enough to stand up to the elements, quartz can fade when exposed to UV light from the sun. For a stone that can be used outdoors, consider travertine.



This fireplace uses white quartz to frame the fireplace. Complemented with a white mantle, the fireplace adds an elegant touch to the living room space.
4. Flooring
Quartz flooring is a quality investment because of its low maintenance requirements. With little to no upkeep, you can trust that your quartz flooring will last for years to come. Plus, because quartz is so durable, it can stand up to high-traffic areas of your home without sustaining any damage.



This unique quartz flooring features large quartz tiles arranged in a diamond pattern, emphasized by darker quartz outlining the pattern. A wood floor runs through the center of the room to add another design element to the room.
5. Bathtubs
Quartz can be used for the surrounding walls of a bathtub, giving your bathroom a premium look and feel. Coordinating the color of quartz you use for your bathtub with your countertops and shower tile can help your bathroom achieve a unified style and aesthetic.



The dark mahogany countertops and bathtub base coordinate with the dark quartz countertops and matching surface of the bathtub base. This creates a cohesive look and feel in the bathroom.
6. Showers
For a stylish shower without a premium price tag, quartz is an attractive option.  Since quartz is so easy to clean, soap scum and other buildup can be removed without harsh cleaners or scrubs. Quartz is also resistant to mold and mildew, since it doesn't harbor moisture. Because quartz can be slick, it shouldn't be used on the floor of a shower unless it has a honed finish. A honed finish means that the stone has been ground to be smooth, flat, and consistent, making it's easier to stand on without slipping.



This striking quartz shower would fit into the style of any contemporary bathroom.
Frequently asked questions about Quartz
Before you decide to use quartz for your next project, make sure you know basic information about this stone and its characteristics. That way, you'll be able to know for sure if quartz is right for you—and how you can keep it in the best condition after it's installed.
How is quartz made?
Quartz is an engineered stone, as opposed to natural stones like granite. Quartz slabs are made from natural ground quartz and combined with polymer resins that act to protect the slab from pathogens.  This results in quartz's remarkable durability and non-porous qualities.
What's the difference between quartz and quartzite?
While quartz is a man-made stone, quartzite is a form of sandstone that's extracted directly from a natural stone quarry and then formed into finished slabs. It's usually found in gray, white, or black hues and lacks the non-porous qualities of engineered quartz.
How do quartz and granite compare?
Quartz and granite are two of the most popular choices for countertops, flooring, and more. If your project has come down to choosing one or the other, there are several key factors to keep in mind. When it comes to cost, quartz is generally more cost-effective than granite. Granite also requires yearly sealing, otherwise bacteria and stains can be harbored underneath the stone's surface, while quartz does not. However, granite does have a reputation for premium elegance and granite countertops can increase the resale value of your home.
What's the best way to clean quartz?
Quartz is very easy to clean and maintain. In fact, for everyday spills you'll only need a wet cloth to wipe the surface. For a deeper clean, a mild dish detergent can be used. Cleansers containing ammonia, such as Windex, should not be used, as they can cause damage.
How Imperial Wholesale can help
At both of our locations, you'll find a selection of only the finest quartz slabs. With so many shades, styles, and hues available, you're sure to find the one that's right for your home. We also provide professional installation for all our products, as well as free estimates and design consultations. No matter what stage of a project you're in, we have the expertise to help you realize your goal. Get started by contacting us today.