How to Choose Waterline Tile for Your Swimming Pool
There are many steps to designing the perfect pool, from determining a shape and size, to adding water features and decorations, and everything in between. One of the most important, and most overlooked, is waterline tile. To help you make the right decision for your pool, here's an introduction to waterline tile and strategies for buying tile for your pool.
Waterline tile and why you need it
Waterline tile is the perfect way to give your pool an extra "wow" factor. The water in your pool will appear extra shiny and luminous when the sun reflects off the surface of the tile. Additionally, you can use waterline tile to add a pop of color to your pool.

Aside from being aesthetically pleasing, waterline tile has an important role in keeping your pool in tip-top shape. Over time, calcium deposits and mineral buildup can form around the perimeter of your pool, due to hard water. This permanent white ring can be hard to remove, and detracts from the pool's overall appearance. Additionally, waterline tile helps prevent pollen, sunscreen, body oils, and other substances that enter the water from creating a yellow, scummy line at the pool's waterline.

Four easy steps to the perfect waterline tile

Now that you know the basics of waterline tile, it's time to get started with finding the perfect tile for your pool. It may seem overwhelming, given how many options are available—however, the process is remarkably simple. Here are four easy steps to help you find the perfect waterline tile:

1. Establish a budget

We recommend establishing a firm budget before beginning any home renovation or enhancement, and waterline tile is no exception. You should determine the amount of money you have to spend on tiling your pool before looking at tile choices—otherwise, you run the risk falling in love with a design only to find out that you can't afford it.

Consider financing options to provide the flexibility of making low monthly payments on your project, instead of paying it off all at once.  At Imperial Wholesale, our financing partner, GE Capital, enables us to work with our costumers to find the best financing solution for them, making more projects accessible and financially feasible.

2. Know the different types of tile

After you know what you're looking for out of your waterline tile, you can begin looking for the right tile to suit your project. Waterline tile is generally available in four main varieties:

Glass
Stone
Porcelain
Mosaic
Glass tile

Glass is a popular choice for waterline tile because of the way it captures sunlight and mirrors the water's movement. The installation process of glass tile is more labor intensive, and this typically results in higher costs overall.  However, the results are unique and not found with any other type of tile.



This glass tile features a striking blue pattern that enhances the color of the water.

Stone tile

If your home is themed with rustic or natural décor, the organic and earthy tones of stone tile can ensure that your pool evokes the same sort of aesthetic. If you have a salt water pool, it is not recommended to use soft stones such as travertine for your waterline tile, because they are porous, which makes them especially prone to damage caused by salt water.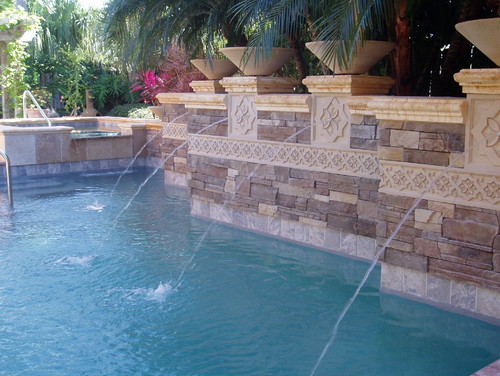 Stacked stone walls coordinate with stone tiles along this regal pool's waterline.

Porcelain tile

Porcelain tile is the most common choice for swimming pools. Because of its density, porcelain tile is strong enough to stand up to being exposed to water and other outdoor elements. This makes porcelain an ideal choice for waterline tile, as it will survive being submerged without causing any damage or needing a significant amount of upkeep. Porcelain tile is also easy to install, and easy to clean, along with being soft to the touch. Porcelain tile is available in a wide variety of styles and colors, making it easy to find the perfect tile to match your pool.



This pool features bright and intricately designed porcelain tile along its waterline, including detailing the steps into the pool.

Mosaic tile

As the name suggests, mosaic tile consists of a combination of different colors, designs, sizes, and types of tile. The finished product is a unique and colorful tile that's the perfect choice for adding a hint of eye-candy to your pool's waterline.



This neutral mosaic tile is composed of glass and stone. The gray, blue, and brown hues enhance the crystal clear appearance of the water.

3. Work with a designer

If you're feeling overwhelmed at the amount of options available for waterline tile, it's best to work with a professional designer. That way, you'll have someone to answer all your questions and help you get a better sense of what your pool will look like once the waterline tile has been installed.
At Imperial Wholesale, we're proud to offer free estimates and design consultations for all projects, and pools are no exception. We'll gladly come to your home and evaluate the scope of your project, so we can give you an accurate quote on both the cost of the products and the amount of labor needed. Once you have an idea of how much your project will cost, our designers can take it to the next level by providing you sketches of how the project will look when it's done.

4. Don't forget about coping

Once you've chosen your waterline tile, you can coordinate the color and design with coping to give your pool the final finishing touches it needs. Coping provides an edge for swimmers to grab when entering or exiting the pool, as well as an easy surface to grip. Coping also makes it easier to avoid slipping when walking close to the pool, and protects against leaks.

For all your pool tile needs, turn to Imperial Wholesale
If you're looking to turn your backyard into a desert oasis, get to know the experts at Imperial Wholesale. With free installation on all of our products, we'll do the hard work for you while you enjoy the results. Contact us to get started with a free estimate and design consultation.