Design the Vanity of Your Dreams with Custom Marble
When it comes to designing your master bathroom, a vanity is a feature you shouldn't overlook. A vanity can add a luxury aesthetic to a bathroom and create much-needed countertop space, along with additional storage areas. Marble is the perfect stone to adorn a custom vanity because of its sleek, understated elegance that stands the test of time. With a wide variety of styles and colors available, marble can be customized to fit the specific design and vision you have in mind for your vanity. To help you utilize this versatile and popular stone, we have prepared this guide to designing the marble vanity you have always dreamed of.
Get to know the stone
When it comes to purchasing marble slabs or planning to use marble in your vanity project, there are a few key terms and characteristics you should be familiar with. Knowing the basics of marble will help you make an informed purchase decision when it comes time to choose your slab, and help you know exactly what you're looking for in the first place.
Veins and veining
Veins are the long lines of color that cover marble and other natural stones. Veins form as a result of minerals interacting with the original limestone underground, long before it's mined. Veining is often highly sought after due to its striking look, and slabs with particularly intricate veining can carry a higher price tag. On the other hand, slabs with little to no veining may be lower priced. At Imperial Wholesale, many of our marble slabs display veining, including our Arabescato Carrara slabs.
Vein-cut
Vein-cut stones are cut against the vein, so that the veins appear as long lines. This type of cut showcases layers of compressed sediment within the slab. Our Volakas marble slab is an example of a slab that features a vein-cut.
Cross-cut
Cross-cut stones are cut with the vein at a 90-degree angle, so the veins appear as swirls rather than long lines. This type of cut results in a mixture of dark and light shades throughout the slab. Our Calcata Turkish marble slabs have the swirling design that is common in cross-cut slabs.

Once you have a general idea of what kind of marble you'll be using for your vanity, you can start to narrow down the specifics of the design. Since every bathroom is different in terms of space, style, and functionality, there's no one right answer when it comes to designing a vanity. However, these tips will help steer you in the right direction and inspire your own ideas.
Maximize space
A lack of square footage doesn't mean you have to compromise on style. Even the smallest bathrooms can benefit from a space-saving vanity. When it comes to purchasing a marble slab, you'll likely save money because you won't need a large slab for a small or compact vanity.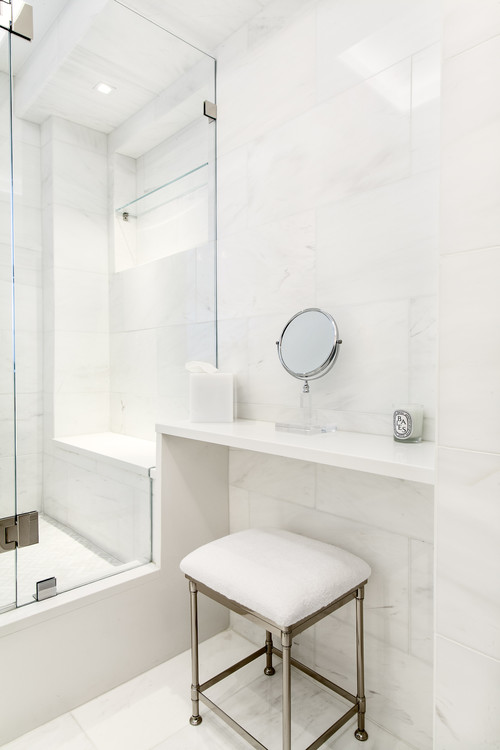 This sleek vanity makes the most of a small space, and adds a much-needed area for hair and makeup. The marble surface matches with the adjoining marble walls, flooring, and shower. On the other hand, a larger bathroom can benefit from a deluxe and oversized vanity, or even multiple vanities. This can also help avoid the problem of wasted space and ensure that all areas of the bathroom serve a purpose.



This large bathroom takes full advantage of the extra space with a deluxe sized marble vanity. The L-shaped countertop is a perfect fit for the corner space, and offers extra counterspace.



A large and luxurious bathroom can create the opportunity for split twin vanities like the one pictured above.

Coordinate with flooring
Your vanity should coordinate with the flooring of your bathroom to make sure that it doesn't stand out in a negative way. Note that coordinating doesn't mean matching—contrasting shades can also be used to create a unique design.



This red wood vanity has marble countertops that coordinate with the matching marble flooring. His-and-hers sinks and storage areas ensure that everyone has enough space for their bathroom belongings.



The intricate mosaic flooring in this bathroom contrasts well with the sleek and understated marble vanity.
Play with color
While white cabinets are a great match for pristine white marble, other cabinet colors can also complement the stone. Since marble can have intricate veining and swirls of gray and black, neutral cabinets that contain these shades can emphasize this element. Additionally, a bold cabinet in a shade like red is guaranteed to be eye-catching. Experimenting with the color of the accent pieces in your bathroom can also complement the look of your marble vanity.



These baby blue countertops add a delicate aesthetic to the bathroom and fit together well with the marble vanity top.



This bathroom uses gold accents on the shower, cabinetry, mirror, and lighting in direct contrast with the white marble vanity. The use of gold further emphasizes the regal nature of marble.
Preserve your creation
Once you have invested in marble for your custom vanity, it's important to keep it in the best condition possible for years to come. With the proper care and maintenance, your vanity will look like new and continue to add style and elegance to your bathroom. Because marble is a porous stone, it will need to be sealed at least once a year to prevent stains from setting in and ruining the stone. Sealing marble also helps prevent the effects of moisture, including mold and mildew, from developing. Along with sealing, you should ensure that you clean your vanity properly to avoid damaging the marble. Household cleaners that contain ingredients such as ammonia, bleach, or vinegar should not be used on marble because they can damage the stone. The best way to clean marble is with warm water and a soft cloth. If you need a deeper clean, a small amount of dish soap can be used.
Bring your dream bathroom to life with Imperial Elite
From custom marble countertops to deluxe granite floors, our elite service is your go-to when it comes to crafting an elegant bathroom. Whether you're sold on using marble for your bathroom vanity, or want assistance with finding the right stone for your project, our specialists are here to help. From initial sketches to the final reveal, we'll help you bring your vision to life. Contact us today to get started on the journey to a luxury bathroom.