5 Tips for Selecting an Outdoor Water Fountain
Outdoor water fountains make a bold statement for any home. They're sophisticated, peaceful, and a stunning asset. With our Imperial Elite services, we'll help you create your dream outdoor fountain, from the ground up. Think custom designs, one-of-a-kind materials from exotic places, expert design consultations, and more. If you're ready to get started, contact us today and we'll begin working together to bring your vision to life. However, if you're still unsure about the direction you'd like to go, read up on our five tips for selecting a water fountain below.
1. Select the right style
First things first—it's important to choose the right style of fountain for your outdoor area. We recommend coordinating your style of fountain to the rest of your home's designs. To do so, pull elements of your outdoor area into your fountain. If your yard features an industrial vibe, try a modern fountain; if your style if more traditional, stick to a classic fountain, and so on. Here's what that may look like, depending on your style preference:



Modern fountains: To have a modern styled fountain means to have one that's chic and polished. Modern fountains may also use industrial materials, like stainless steel.
Classic fountains: Classic water fountains are very traditional and use natural materials like marble and stone. Classic fountains are a staple and will likely stay in style for many years to come.
Casual fountains: Casual outdoor fountains are not necessarily modern nor classic. They provide a fun and trendy look to your yard and are best used as a supplement piece, rather than a statement piece.
2. Choose your type
After selecting the style of fountain you'd like, we recommend selecting a type of fountain. When it comes to this decision, there several things to keep in mind. For example, it's important to consider the impact you'd like your fountain to have—are you looking for a fountain that steals the show and makes a statement, or something that simply adds to the rest of the décor? Depending on your answer to these kind of questions, your ideal type of fountain may change. Each type of fountain offers its own style and varies in size. Be sure to take the following types into consideration when determining which is best suited for your home:
Wall fountains
These types of fountains stand up against an exterior wall and extend vertically, typically taking the shape of the wall.
Tiered fountains
These are traditional fountains that have multiple tiers of water. Most commonly, tiered fountains will have three tiers, but each can vary in both style and size.
Floor fountains
Floor fountains extend horizontally, running along the ground. They give off a very appealing and unique look, usually serving as a statement piece.
Solar-powered fountains
These fountains are powered by solar energy as opposed to an electrical outlet. Because of this, solar-powered fountains are preferred by those looking for an eco-friendly option.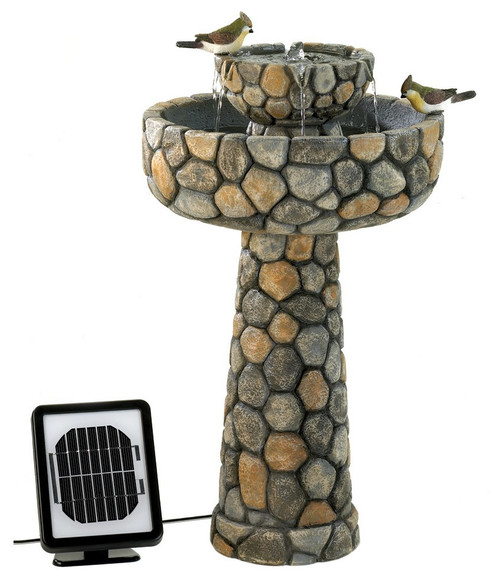 Bubbling fountains
Bubbling fountains spew out water in a bubbling manner. They're very enticing to look at and have a soothing sound to them.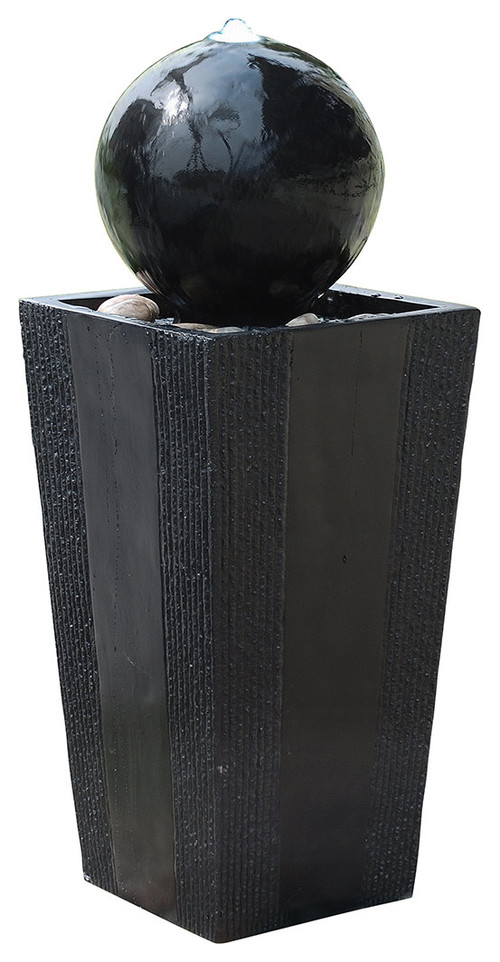 Cascading fountains
The water from cascading fountains flow through several levels, almost like a maze.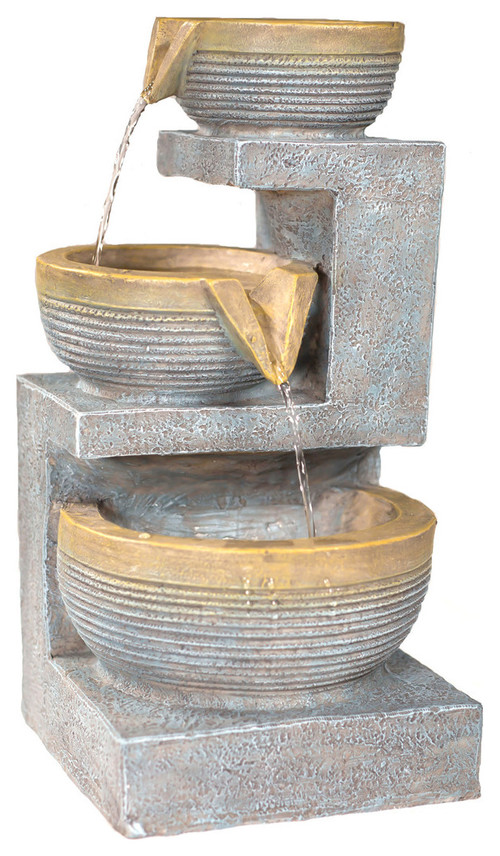 Pond fountains
Pond fountains are one-of-a-kind fountains that are placed underwater. The water from the fountain spews out of the surrounding water.
3. Select an ideal location
When selecting an outdoor water fountain, it's important to assess where you want to install your fountain. We recommend selecting an area that's highly visible to you and your guests in order to set an appropriate ambiance in your backyard. If you're looking to achieve a statement fountain, consider selecting an area that's big enough to hold a large fountain. There's nothing worse than having a fountain look too big or too small in any given space. Also, when selecting your fountain's location, try picking an area that's close to a power supply and water source(s). This will help simplify the installation process later on.
4. Select the right materials
Next, it's time to think about what materials you'd like to incorporate into your outdoor fountain. With the help of our Imperial Elite services, the sky is the limit when it comes to materials. We travel the world to bring you custom stone treasures that'll work beautifully into your fountain. To get a better idea of what materials we have currently in-stock, simply give us a call! Although we're able to customize almost any fountain with any material, some of the most common materials homeowners use for outdoor water fountains include:
Copper
Cement
Acrylic
Ceramic
Marble
Limestone
Resin
Fiber stone
Cast stone
Fiberglass
Metal
Bronze
Granite
5. Consider maintenance and cleaning
Aside from considering the style, type, location, and material—it's also important to consider the logistics of your water fountain before making any final decisions. This includes fully understanding the maintenance that may come when installing a fountain in your front or backyard. For example, it's important to think about the following:
Plants
Plants add to water fountains and help maintain the level of oxygen in the water. However, if there are tall trees or other plants hovering over the fountain, leaves and other debris may fall into the water. If this happens, you'll have to make time to clean the debris out of the fountain, sometimes on a daily basis.
Animals
Animals are another logistic to think about in terms of maintenance of your fountain. For instance, many choose to have fish within their fountain. Fish eat away algae and help plants to grow by producing carbon dioxide. However, fish need to be fed and cared for—another maintenance task to keep in mind. Also, consider how you'd respond to birds in your fountain. Many times, birds flock to fountains to drink water, rest, or bathe. This could also potentially lead to more items to clean up.
Weather
Weather is another factor to consider when it comes to water fountain maintenance. During the cold winter season, certain fountain materials crack or get dirty from rain or snow. Because of this, we recommend covering your fountain in the winter. The same goes for those who live in Arizona during monsoon season. It's common for dirt, dust, and debris to be in the air during the summer months. To avoid damage to your fountain, remember to cover it with a water fountain cover before any storms come your way.
Looking for more guidance?
A lot of factors come into play when choosing an outdoor water fountain. For more guidance on where you can take your next fountain project, don't hesitate to contact our Imperial Elite services. We'll work together to bring your vision to life.