How to Use Pantone's Color of the Year in Your Home
Every year, the Pantone Color Institute releases their defining color of the year—a trendsetting shade that's reflected in the world of design. In 2017, Pantone embraced the natural hue of greenery, a fresh and neutral shade of green. In 2018, they've shifted gears and selected a rich, lush, and attention-grabbing shade of purple known as Ultra Violet as the color of the year.
Why Ultra Violet?
Leatrice Eiseman, Executive Director of the Pantone Color Institute, describes Ultra Violet as "a blue-based purple that takes our awareness and potential to a higher level." Reflecting a culture of originality and visionary thinking, Ultra Violet is symbolic of the vast and limitless night skies. Eiseman also describes Ultra Violet as "a dramatically provocative and thoughtful purple shade" that "suggests the mysteries of the cosmos." When it comes to interior design, the potential of Ultra Violet is limitless. Whether it's used as an accent or as a room's primary color, the appeal of Ultra Violet is unmistakable. Here are five easy tips and tricks for getting the most out of Ultra Violet:
Make a bold statement
Add a pop of color
Embrace contrast
Mix and match with natural materials
Explore color palettes
1.      Make a bold statement
Beige, gray, and other muted tones can dominate much of a room's interior design. If you're the type who doesn't shy away from vibrant colors, Ultra Violet is a shade that's perfect for making a bold statement.
2.      Add a pop of color
If you're not looking to commit to an Ultra Violet-heavy room, the color can still be used to add a perfect pop of vibrancy anywhere in your home. Because it's such a lush and deeply saturated hue, Ultra Violet can make a large impact on a room even in small doses. A pop of color is the perfect way to experiment with Ultra Violet without committing to a major change to your room's interior. Our favorite ways to use Ultra Violet as a pop of color include:
Throw rugs
Accent walls
Furniture pieces
Throw rugs
An easy and accessible way to add a pop of color to your home is with a throw rug. If you think your room is missing that special something to tie it all together, a rug in a fun shade such as Ultra Violet may be the answer.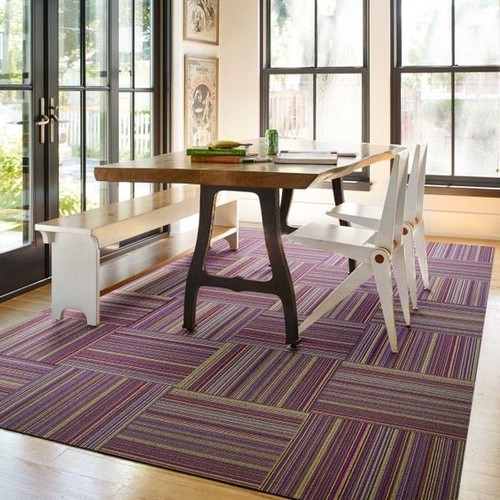 Since Ultra Violet works well with so many shades, it doesn't need to be the dominant color in a piece in order to shine. In this example, a geometrically designed area rug featuring Ultra Violet and other varying shades of purple, pink, and tan adds a nice touch of color to the
dining room
space.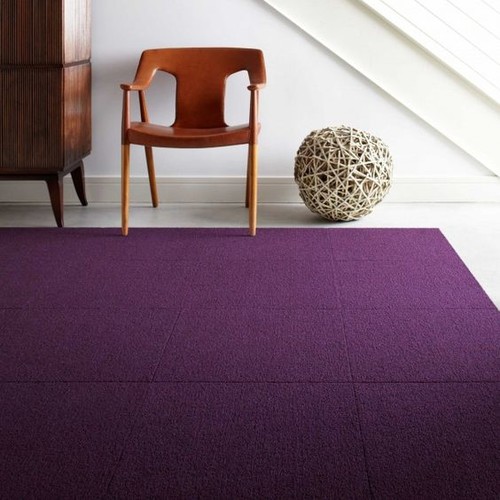 Accent walls
An accent wall allows you to experiment with color without fully committing to it. Ultra Violet is a great choice for accent walls and can add to the style of any room.
This trendy bedroom utilizes an Ultra Violet accent wall and coordinating bedspread to liven up the space.
Furniture pieces
For a pop of color that you can move from room to room, furniture pieces are a great choice. Tables, chairs, cabinets, and more will help you accomplish a bold look in any room.
These modern dining chairs add a nice hint of Ultra Violet to the dining room and give the room the pop of color it needs to avoid looking too bland.
3.      Embrace contrast
Contrast between colors can create a unique look in any room. But, there's a fine line between contrasting and clashing. To keep your Ultra Violet accents from crossing this line, play it safe by following the 60-30-10 rule. According to this rule, the colors in a room should follow the following percentages:
60% dominate color
30% secondary color
10% accent color
Of course, there's no rule in interior design that can't be reworked with a little creativity. Experiment with color combinations and use as much, or as little, or each color to help you accomplish a look that you feel good about.
This living room follows the 60-30-10 rule, with the majority of the room's color coming from the white walls and flooring. The Ultra Violet couch and floral display contribute to the next largest share of color. Finally, the green accent pillows play off the couch to give off a nice pop of contrast.
4.      Mix and match with natural materials
Another way to add Ultra Violet to your home is to mix and match with various materials. Whether that means wood, brick, or
natural stone
is up to you—but no matter what, you're sure to love the results. Ultra Violet can be warmed up through the use of warm-toned natural materials, or used for a sleek and modern feeling with darker materials like slate or granite.
This contemporary dining room incorporates Ultra Violet in both the dining chairs and the opposing wall's artwork. The rich brown hardwood floors and table compliment the hues.
5.      Explore color palettes
Once you've decided on how you're going to use Ultra Violet in your home, it's time to figure out what colors will complement your space. Luckily, Pantone created a variety of
color palettes
featuring Ultra Violet that can help you visualize what colors to incorporate with it into your design. Whether you choose a muted palette for a calm bedroom, or a vibrant palette for an eye-catching dining room, the options are endless when it comes to Ultra Violet.
Planning a remodel? Work with a designer
Maybe your plan to incorporate Ultra Violet in your home is part of a larger project. Or, maybe you're interested in finding out what options are out there for countertops, flooring, and more. Whatever the case, our
design consultations
are the answer. We take the guesswork out of design, so you can focus on the final product. No matter what stage of the design process you're in, you'll benefit from our experienced designer's knowledge and visual skills.
Contact us today
to take advantage of this free service.