Top 5 Uses for Travertine Slabs
Travertine is a versatile type of limestone that can be worked into almost any project. The material can be found in a variety of shades ranging from ivory to dark brown, but is most commonly seen in tan, cream-colored, and rusted shades. Travertine has been used as a building material for thousands of years, which helps solidify its classic and timeless feel.

At Imperial Wholesale, we've seen travertine used in a variety of different ways. While each application speaks to different styles and preferences, here are our top five favorite ways to incorporate this unique stone:
1. Driveways
For an eye-catching driveway, travertine pavers are an excellent choice. Travertine pavers can be installed directly on top of your current driveway, making the process easier. Travertine pavers are also weatherproof when sealed and can handle exposure to harsh seasonal elements, even monsoons in Arizona.

If you live in a neighborhood where changes to the exterior of your home are governed by a Homeowners Association, make sure to get approval before beginning your driveway project. If driveway modifications are not allowed, remember that travertine pavers can be used in other areas of your landscaping to accent your home.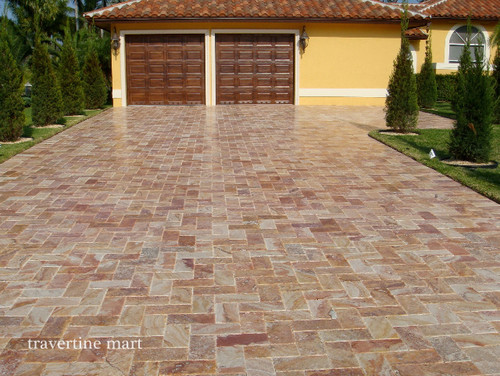 With vibrant and shiny red and brown tones, the driveway pictured above makes a great first impression. The use of darker travertine stones also ensures that the material won't show dirt or car skid-marks easily.
2. Backsplashes
Travertine is a popular choice for kitchen backsplashes because it goes well with popular countertop materials such as granite. Since travertine is a porous stone, or a stone that's prone to absorb water and moisture, it's important to seal it if you plan on using it for your backsplash. This will prevent stains from setting in to the stone, and keep bacteria from growing under the stone's surface.



This tumbled travertine backsplash has a rough, textured finish. The brown and tan hues complement the kitchen's color scheme and the design adds just enough of an accent piece without overwhelming the space.
3. Flooring
When properly installed and maintained, travertine flooring adds a unique style to any room in your home. Like other natural stones, travertine flooring is durable, long-lasting, and easy to repair. Travertine is also ideal for flooring in hot climates, like in Arizona, because it doesn't conduct heat and always feels cool to the touch.



The brushed and chiseled travertine tile flooring warms up the room and gives the home a unique, Mediterranean feel.
4. Swimming pool tile
Travertine doesn't absorb heat, even on the hottest days. This makes travertine an ideal choice for tiling around your swimming pool, since it always feels cool and refreshing to the touch. Travertine also has a non-slip texture, making it safe to use around your pool. This material eliminates injuries from walking, or running, on it with wet feet.



This backyard pool is surrounded by bright red and gold travertine, along with matching pool coping. This combination gives the backyard a modern, Mediterranean vibe.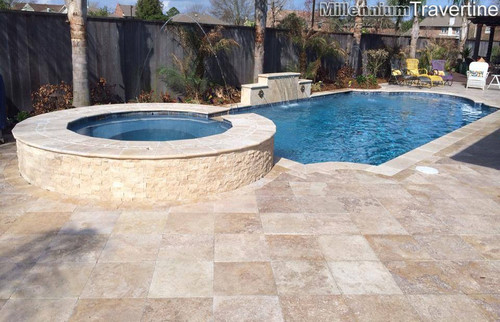 In this example, beige travertine is used for both the pool tiling and the tiling surrounding the attached hot tub. The unrefined edges of the travertine stone helps to create a pool with a historic look and feel.
5. Fireplaces
Whether you use it indoors or outdoors, travertine can transform your fireplace into a grand centerpiece. The material can be used both to frame and surround the fireplace, or to construct it from the ground up.



In this example, travertine tile is used to frame the fireplace, which gives the room an elegant touch.
Finding the right travertine for your project
Once you've decided how to use travertine in your home, you'll need to narrow down the specifics to determine what kind of travertine you'll need. As with any natural stone, travertine has many varieties and forms. By understanding the terms associated with travertine, you can find the exact stone you need for your project.
Finishes
Travertine comes in several finishes, each with its own distinct look and feel. The finish you choose will impact the overall style of your project. We have travertine available in all of the most popular finishes, including:
Polished
To achieve a polished finish, the stone is smoothed and polished until it has a shiny and reflective surface. Our Tuscany Ivory is an example of travertine with a polished finish.
Honed
This finish is flat and smooth. Honed travertine, including our Cascada Beige, is matte with little to no shine. This is the most popular finish for interior travertine projects, such as backsplashes.
Brushed
With a slightly rough texture and matte finish, brushed travertine has an antique look. Brushed travertine such as our Mexican Walnut is ideal for outdoor projects.
Tumbled
This is the most natural finish for travertine and has a highly textured surface, as seen in our Tuscany Gold travertine. Because of its rough edges and worn appearance, tumbled travertine is usually found in outdoor projects.
Tile vs. pavers
When you start a project with travertine, you must decide between using travertine tile or travertine pavers. The main difference between travertine tile and pavers is the thickness of the material. Travertine tiles are typically ½ inch thick, while pavers are at least 1-2 inches thick.

The decision between using tile or pavers for your project may come down to where you're placing the travertine and why. For example, pavers are a better choice for outdoor use in areas that are exposed to the sun, wind, and rain. This is because pavers are typically sealed to prevent damage.

For indoor projects, tile is the more popular choice because of its slimmer size. However, travertine tile can be used both indoors and outdoors, including projects with pool tile and coping. When using travertine tile outdoors, it's important to use tiles that measure no thinner than ½ inch. Thinner tile can be harder to install and may not stand up to harsh outdoor conditions.
Get started today
At Imperial Wholesale, we'd be happy to help you bring your project to life. Visit one of our two warehouse locations today to see our selection of travertine in person. There, we'll also give you the expert advice you need to make sure your project turns out exactly the way you want it. Contact us today to get started.